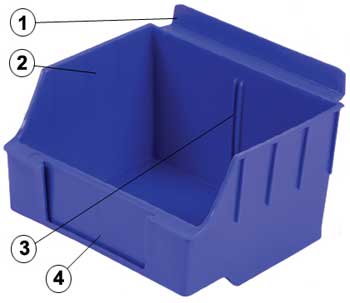 Slathook fits into any existing slatwall panel, slatwall or wire slatgrid display.

Super-tough impact modified, fade resistant, virgin polypropylene.

Add dividers for extra flexibility

Light and space-saving with handy label holder
Slatwall containers available in many different colors and sizes to suite any slatwall display application.
Pegboard adapters available to adapt any slatwall container to an existing pegboard backing or display.
---

Durable, long lasting Storbox™ is the ideal solution for storing small parts- from nuts and bolts, sinkers and hooks to beads and badges, Storbox™ with it's innovative shape makes even the smallest items accessible and easy to display.
Size: 115L x 140W x 85H mm (4.53L x 5.51W x 3.35H inches)
---

Size: 115L x 290W x 85H mm (4.53L x 11.42W x 3.35H inches)
---

Size: 150L x 150W x 178H mm (5.91L x 5.91W x 7.01H inches )
---

Size: 275L x 275W x 170H mm (10.83L x 10.83W x 6.69H inches)
---

When presentation is important choose from the Popbox™ range. Designed specifically for retail display, the sturdy and stylish Popbox is available in a myriad of sizes and colours. Engineered to enhance your retail display display Popbox is a clear winner when it comes to attracting attention!
Size: 130L x 140W x 95H mm - (5.11L x 5.51W x 3.74H inches)
---

Size: 170L x 140W x 180H mm (6.69L x 5.51W x 7.08H inches)
---

Size: 357mmL x 280mmW x 170mmH (14L x 11.02W x 6.69H) inches
---

Size: 350L x 565W x 170H mm (13.7L x 22.24W x 6.69H inches)
---

Shelfbox™ and the entire Slatbox™ range is designed to be the most universal storage system on the market.
Featuring a handy label holder and optional horizontal dividers for easy identification and sorting.
Manufactured to fit smoothly into existing shop systems, the practical slathook doubles as a shelf hanglock, saving valuable display and storage space.
Size: 130L x 140W x 85H mm (5.12L x 5.51W x 3.35H inches)
---

Size: 225L x 140W x 85H mm (8.86L x 5.51W x 3.35H inches)
---

Size: 325L x 140W x 85H mm (12.8L x 5.51W x 3.35H inches)
---

Size:425L x 140W x 85H mm (16.73L x 5.51W x 3.35H inches)